A proven exercise platform to engage patients and improve clinical outcomes
Our Exercise and Education Portal powered by Kinduct, seamlessly integrates with your OCA Aspire account and empowers you to engage and educate your patients with exercise videos, surveys, and remote monitoring tools. This powerful tool, used by professional athletes and teams, adds another layer to your exceptional patient care!
Detailed recovery plans to engage, educate, and empower your patients
Engage your patients with a library of hundreds of 3D medical animations and thousands of exercise videos.
Create your own tailored content to help your patients better understand their injury.
Meet all your patients' needs with a library of content or your own customized exercise routines.
Enhance patients' experience by enabling them to access their dashboard from the cloud at their convenience.
Remote patient monitoring for enhanced patient care
Easily track patient progress by assigning them journaling and surveys.
Quickly adjust exercise plans based on patients' progress and status.
Stay up-to-date with your patients with encrypted messenger and survey features.
The data you need to elevate your patient care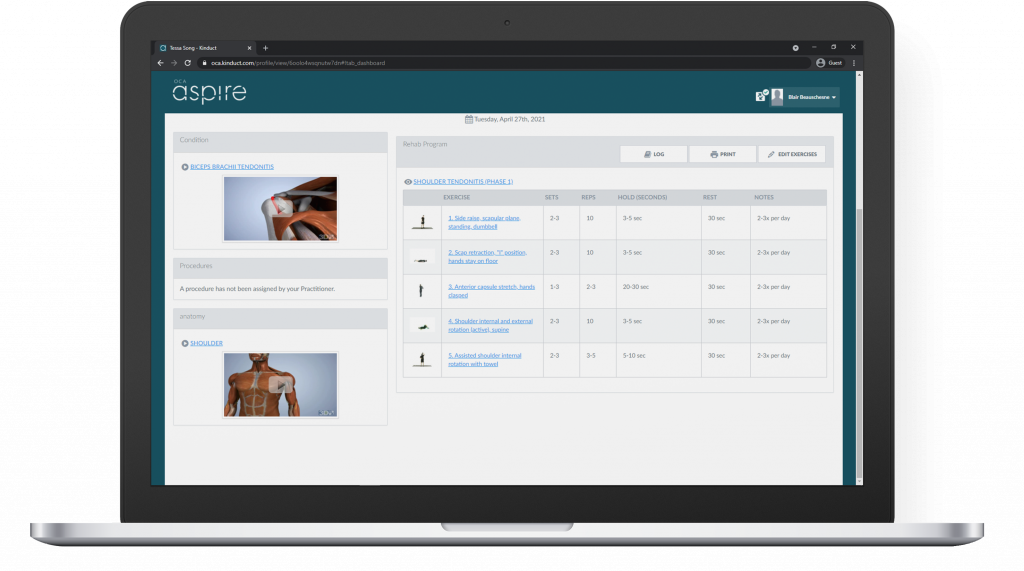 Stay up-to-date on your patients' status with consolidated data collection, dynamic reporting, and visualizations that sync with your patients' health records.
Identify at-risk patients with powerful data visualization tools.
Make informed clinical decisions with triggers and alerts that highlight insights in the data.
If you're interested in learning more about OCA Aspire you can book a personalized demo below. Or, if you're ready to begin your transition, click on Get Started to begin your journey today!
"Kinduct delivers great added value to our clinic. Customized exercise programs are tailored to specific conditions. My patients are provided instructional videos for each exercise along with 3D animations of their condition. This provides valuable education and saves me considerable time. My patients continue to tell me how much they appreciate the extra attention to their care."
– Dr. Tousignant
Learn more about our patient experience features: