Your practice management hub that optimizes calendars and helps your business grow
OCA Aspire's scheduling streamlines your team's work, enabling them to spend more time providing an exceptional patient experience. Your health assistants can effortlessly book, view and manage appointments. With the right tools, your team can help your business grow.
An efficient scheduling process to keep your staff happy and productive
Book an appointment in only three clicks with pre-populated sections based on secured, stored data.
Streamline repeat visits by booking them all at once.
Edit appointments in as little as two steps.
Eliminate wasted time scrolling through calendars. With OCA Aspire you can simply search for the next available appointment.
A command centre that ensures your clinic runs smoothly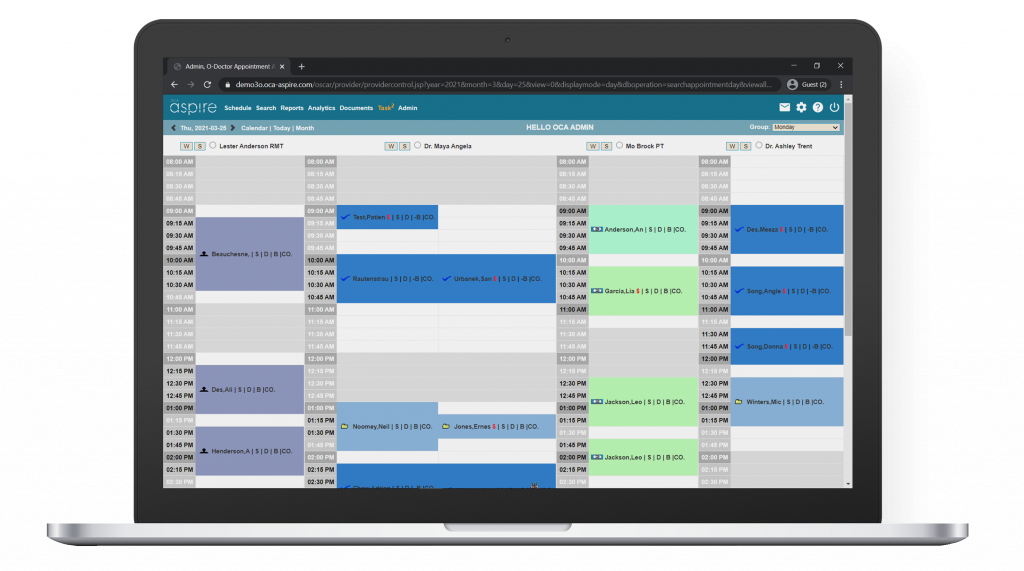 See your day at a glance with a status column visually showcasing your upcoming and cancelled appointments.
Seamlessly manage your clinic with colour-coded calendars that highlights practitioners' availabilities and appointment statuses.
Check patients' billing status from the calendar with a credit balance icon that updates automatically.
Customize appointment tiles to include key information and quick links
.
Stay organized by updating your patients' status based on your predefined workflow.
Everything you need in one place
Better understand your clinic's workload with different calendar views that show specific time ranges or practitioners.
Easily add an ad hoc break without leaving the calendar page.
Book the next appointment during the visit without toggling between pages.
Create an invoice in one click directly from the calendar.
Easily access patients' echarts and electronic forms, right from the appointment tile.
Customizable parameters cover all you need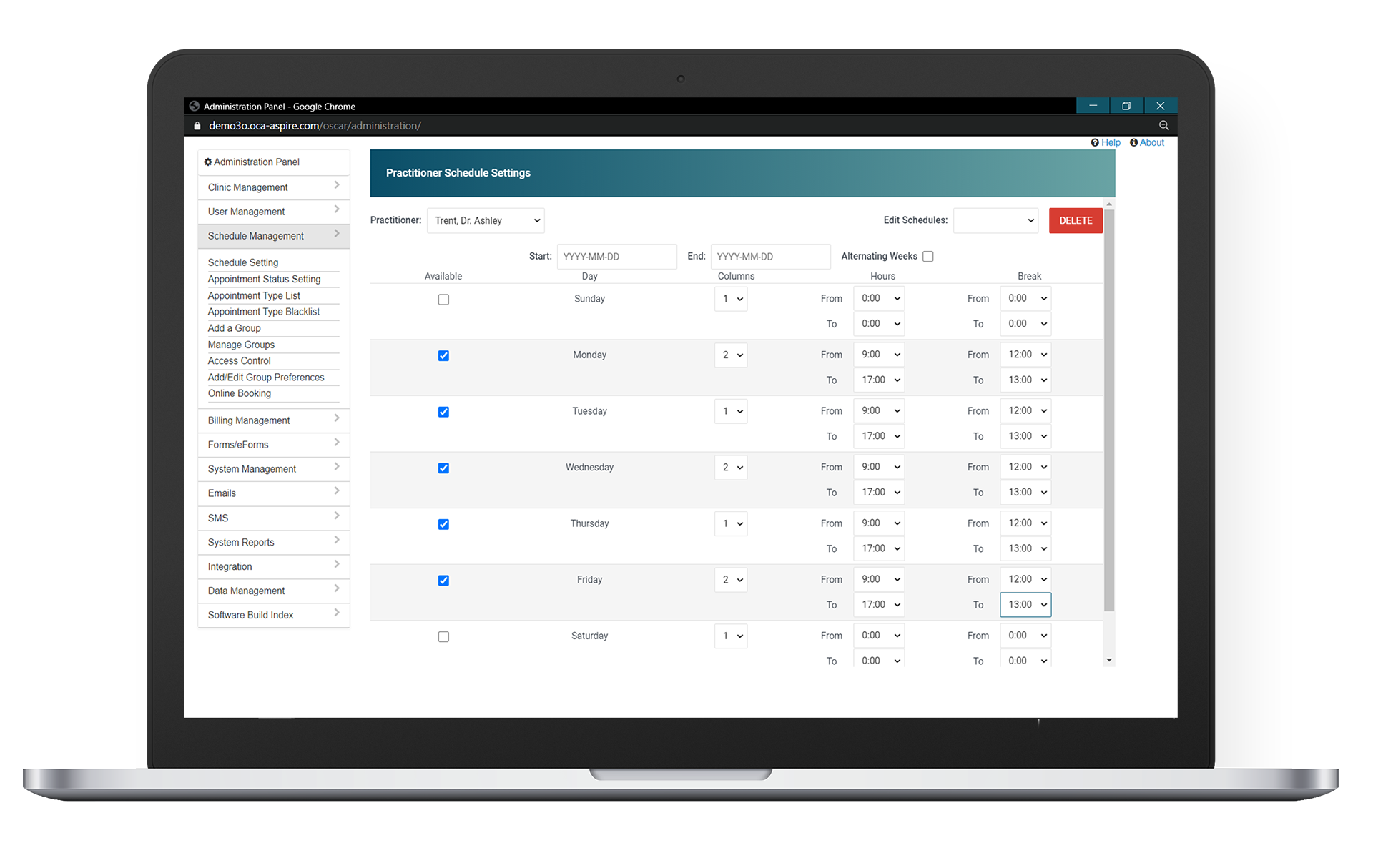 Easily assign default appointment types with set durations for each practitioner and customize them as needed.

Ensure a smooth booking routine by setting availabilities, summer hours and holidays for each practitioner.

Minimize scheduling mistakes by withholding certain appointment types from specific practitioners.

Never double-book a room with automatic room assignment.
Powerful scheduling to grow your business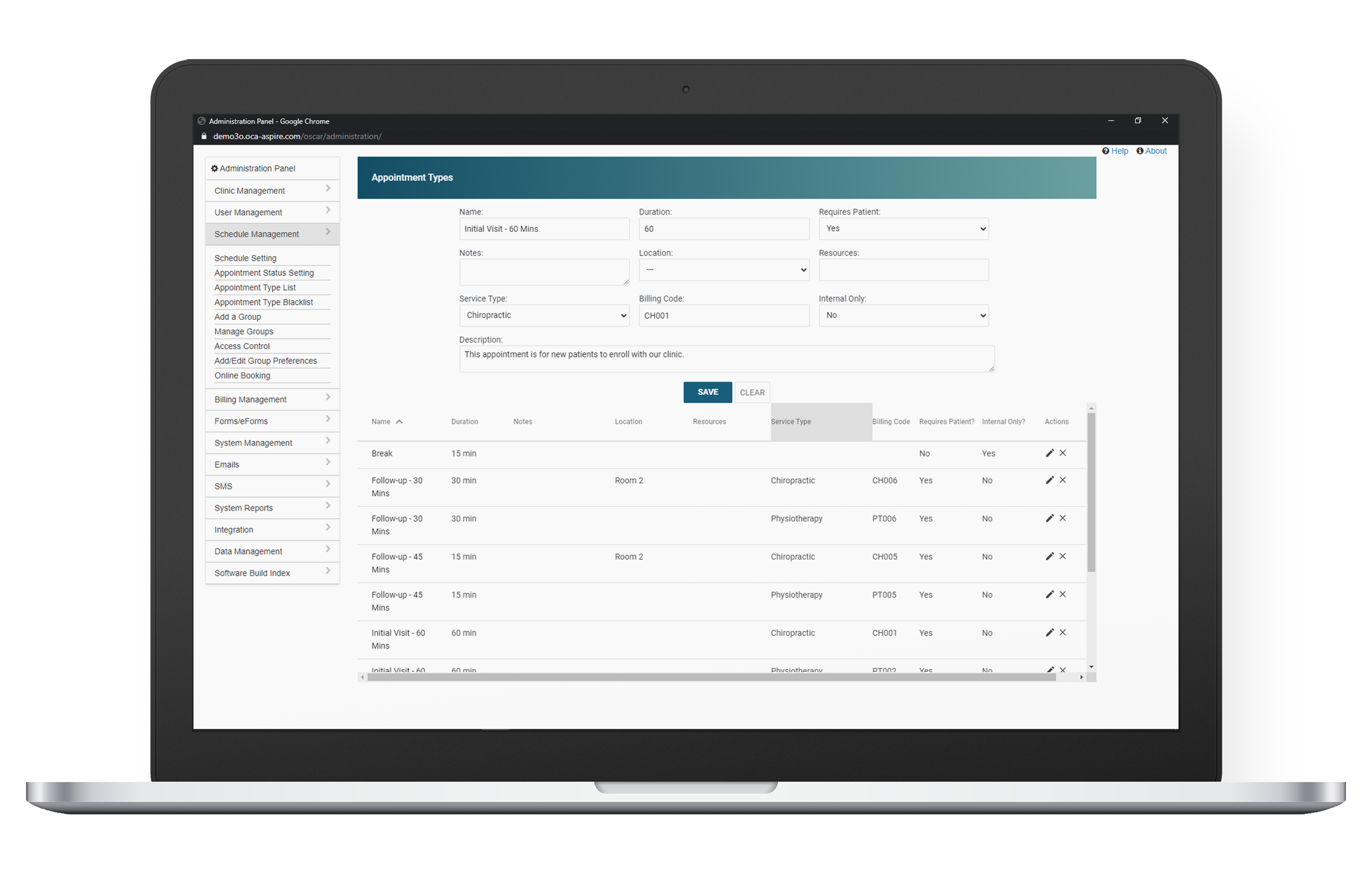 Manage demand in your clinic by configuring appointment intervals.
Decrease the number of no-shows with automated text and email reminders.
Optimize your shared equipment and facilities by automatically tracking occupied and empty rooms.
Check your clinic's workload by easily changing calendar views from day to week or month.
If you're interested in learning more about OCA Aspire you can book a personalized demo below. Or, if you're ready to begin your transition, click on Get Started to begin your journey today!
"I find OCA Aspire is a user friendly interface, limited only by your imagination. It's easy to use, provides quality notes for archiving and requires no additional office equipment.
Its future amalgamation with a billing platform makes this a totally comprehensive package, produced by the profession, for the profession. Highly recommended."
– Dr. Brooksbank
Learn more about our other features: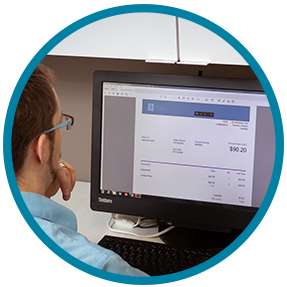 Billing, Payment and Integrated Accounting